Kenta Miyamoto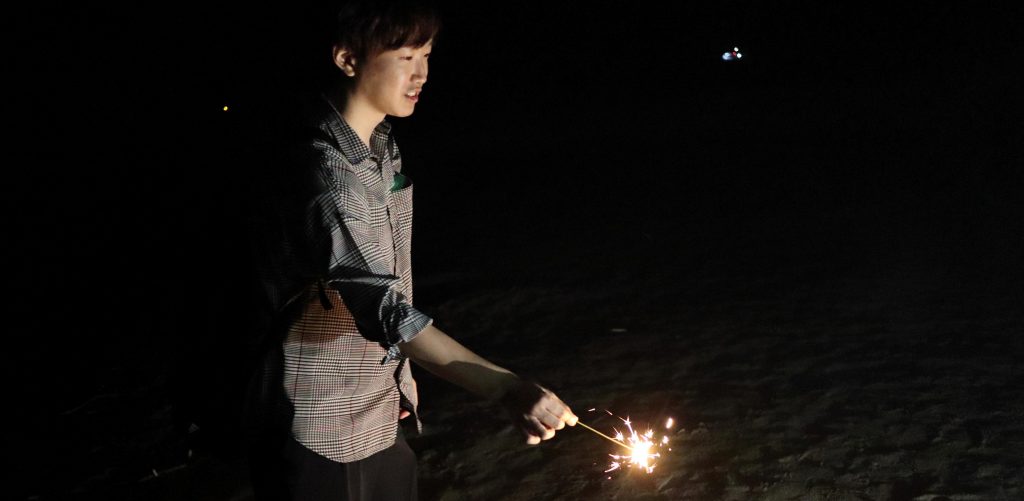 "I didn't know that the spectrum can be used in so many ways"
Thanks to the positive encouragement from his lab supervisor, Japan native Kenta Miyamoto decided to apply to the brand new Erasmus Mundus Japan programme in Imaging and Light in Extended Reality (IMLEX), coordinated in Finnish-Japanese collaboration. That leap of faith has now turned into his first semester of exciting studies and practical experiments in the world of lighting – not forgetting cultural exchange that is happening in online classes, even though the group couldn't physically meet in Finland due to Covid-19 restrictions. Kenta's fascination with light has only grown, so we'll see what kind of innovative products he will be developing after graduation, for the benefit and excitement of the humankind!
The IMLEX programme is actually one of the first Erasmus Mundus Master Joint Degree Partnerships with Japan ever arranged – and while the name might sound complicated, in practice it means a very unique combination of European and Japanese expertise in image conversion, lighting, computer science, VR and robotics. Our Japanese partnering institute is the prestigious Toyohashi University of Technology (TUT), and the IMLEX consortium was happy to see eight of their students, together with nine students from other countries start in the very first student batch of the IMLEX programme in the fall 2020.
Kenta Miyamoto is one of them – and like the whole group of Japanese students that was supposed to start their study path physically at University of Eastern Finland (UEF) in Joensuu, he has been studying remotely for the first semester due to the Covid-19 travel restrictions. However, thanks to modern learning technology, he is completing courses and taking exams at full speed. As the nature of the programme is mobile, he will transfer to the next institution for the following semester  – in his case Belgium.
–From the two options in the IMLEX programme, imaging and lighting, I'm following the lighting track. So after the first semester at UEF, I will go to KU Leuven in Belgium for the second semester and then return to my home university TUT for the third one and for the thesis writing period.
Choosing the track and the Master's degree programme itself was easy, although it took a positive kick from his lab supervisor for him to take the final step to submit the application.
–First, I heard about this program from the seniors in my laboratory and it sounded like a very good choice because of my interest in lighting and the latest XR technology. However, I was a bit hesitant because I thought that it might be too difficult and I felt that I wasn't good enough in English. It was my lab supervisor who encouraged me to take the once-in-a-lifetime chance to study abroad, and I thought it would be a good experience, so I decided to apply.
Light – so common but complex
Kenta's interest in technology first led him to study computer science in a technical college, from where he continued to Toyohashi University of Technology to study psychophysics at the Visual Perception and Cognition laboratory. Whereas his studies there are more focused on how the brain associates seemingly unrelated pieces of information with each other, it is linked to light in the sense that the appearance of a certain object can truly change in different lighting – for instance, an apple that is lighted by a red LED light might seem more delicious than the one lighted by a blue LED. In the IMLEX programme, Kenta has had the change to inspect light from many different perspectives.
–It's fascinating because there is light everywhere in my daily life and I have never studied light in physics in such detail. It is common but it provides so many possibilities that we may not have even realised. We can acquire so much information with the help of light, such as the distance from an object – or even the quality and taste of food items. The harnessing of light has had a huge impact on the latest technologies and I think it has a huge potential in making our lives more comfortable and in creating whole new products. That's what motivates me to study this field.
So far, the studies have been challenging, yet rewarding.
–You have to dedicate hours to learn complex formulas or solve difficult problems. The different kinds of experiments have been really interesting, for instance the double slit experiment, where the aim was to observe interference. Diffracting was very complex and difficult for the first time, but I was happy when I could derive how light behaves.
Initially, Kenta's biggest concern was the level of his English skills – but everything has turned out to be manageable with a little help from a friend.
–Of course, I have studied English in Japan, but the UEF classes are more difficult because I'm learning something completely new in a foreign language. Of course there are areas where I still need to improve, but it's not as difficult as I thought – maybe because I'm studying together with my friend. We can help each other to process what has been taught in class.
Naming his favourite course so far is also easy.
–The course Applications of Photonics was very interesting, because we got to know many optics companies who presented their latest products that utilise optical technology. All of them were so innovative and original. For instance, there are companies that use the spectrum for inspecting medicines, water, paper and so on. I didn't know that the spectrum can be used in so many ways.
Experiences from the far north
Even though Kenta cannot now share new experiences on studying in Finland, he has actually been here the winter before, when he was doing an internship at the University of Eastern Finland.
–That was a quite good experience. It was my first time visiting Northern Europe, so everything felt totally "new". The campus was surrounded by beautiful nature. It was a very good place to study and the professor Markku was very kind and friendly, and my lab seniors gave us tips on where to eat and what places to visit. During my stay, I enjoyed walking around Joensuu, although I was visiting in the middle of the winter in January, so on some days it was almost too cold outside and the daylight was short.
Currently he is studying remotely and doing research at the TUT labs. Online studying is organised well, but it is taking its toll due to the time difference.
–I am attending all classes online. In most classes, we first study the online materials and then have a video meeting with the professor where we can ask questions. Reading the materials takes time, and there is also the time difference between Finland and Japan, so maintaining "normal" daily routines is a little bit tricky at the moment. Of course this won't be the case with future students who can travel. However, I was positively surprised about the Finnish study system, as for instance you can resit exams as many times as you like, if you don't pass a course. In the Japanese system, the number of resits is limited.
Even though the study group has not met in person, the international spirit is shared.
–In some classes we work together on group assignments, so you definitely learn a lot about different cultures at the same time. You see the differences – for instance, many Japanese students are shy to ask questions or share their thoughts, whereas students from some other countries are always asking if they have any unclear points. That is interesting to see and we are a very good mix of students.
Even though it's only been the first semester, Kenta feels a big increase in his knowledge. Therefore, Kenta has a few words to say to potential applicants who might be hesitating over their decision.
–I'm feeling a lot of positive changes from the start to this day. I think my English skills have improved and I have acquired a huge amount of knowledge about lighting. You definitely should apply, even if you hesitate like I did in the beginning. It's a good programme and the staff is always ready to help you. Of course you need to be prepared to work hard, because it takes time to learn a lot of things in a short time. But do your best, help each other with your fellow students and you'll be fine!
When asked about his future plans, Kenta wants to keep his options open.
–I haven't yet decided where I want to work in future. Surely it will be something connected to lighting and working with products that make human life more convenient and fun. We'll see!