Thiyagarajan Manihatty Bojan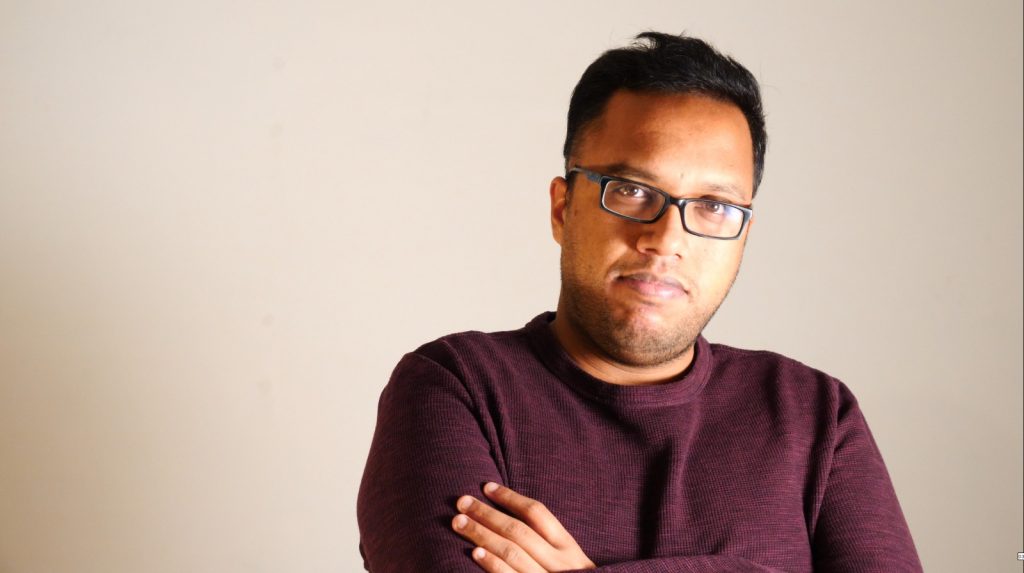 Job descriptions from the future
Our graduate Thiyagarajan Manihatty Bojan's career sounds almost like something from the future – but the future is already here. First, he worked on developing the best possible camera technology for virtual and mixed reality headsets at Varjo Technologies, and at the moment he is Senior Computer Vision Scientist at Revieve, developing an Augmented Reality app that detects facial features and skin properties to be able to recommend skincare products. He is looking back to his times at the University of Eastern Finland as a source of inspiration to study eye tracking and focus on computer vision that has led him to living and working in Finland for years already.
It was the year 2012 when Thiyagarajan graduated with a Bachelor's degree in Information Technology back home in India and applied to the Erasmus+ Joint Master Degree programme called COSI – Colour in Science and Industry. Also our current extended–reality–focused IMLEX programme has sprouted from the same university cooperation in education and research as COSI, sharing many similar components.
While waiting for the results, his entrepreneurial mind wanted to develop something new. He got an idea that stemmed from a practical problem: due to the large population and the sheer size of the cities, the Indian bus network had severe problems with timetables.
–I thought that there must be a way to solve it and save people from waiting for a bus for hours on end. So I started developing a service that could track the current location of a bus.
However, before the app was officially adopted into use, the EU commission had already seen his talent and awarded him the COSI scholarship – among around 10 people on the globe.
Finding focus
In Erasmus+ Joint Master Degree programmes like IMLEX or COSI, students can partly choose in which universities they study based on their own ambitions. Thiyagarajan did his first semester in France, where he learned about the fundamentals of imaging and colours. The second semester he spent in Spain, where he dug deeper into the concepts of computer vision. Already then, his future focus started to become more and more clear.

–I got very interested in computer vision, so I decided to spend the second year at the University of Eastern Finland. Cameras are in the core of computer vision, and UEF had state-of-the-art spectral imaging camera systems, so I really wanted to get into the labs to practice.
And he was lucky to find out that at UEF all students really have access to the labs.
–Even though the equipment in the labs cost a fortune, we had the freedom to do many experiments there as Master's students, even though in many places it is the luxury of PhD students only.
From university to working life
It was also at UEF where he found the topic that ultimately defined the direction of his career.
–I learned about a headset that tracked the eye movements of a person. It was so fascinating that I wanted to join that research group immediately.
Then he also joined a Finnish company Varjo Technologies that develops both hardware and software for mixed reality, first for an internship and after that for a several-year long contract. He was developing eye tracking systems for virtual reality, trying to detect the movements of the eye and making sure that the users saw exactly what they wanted them to see.
After that, he proceeded to working with mixed reality, figuring out the technical specifications of cameras so that, for instance, we could place virtual objects in our real-life environments.
–I was working on camera integrations and calibrations, trying to maximise the real feel and improving e.g. depth estimation.
Flexibility of studies
Now that Thiyagarajan is looking back to his time at UEF, he is thankful for the flexibility and freedom that enabled him to focus on what he really wanted to do.
–When I wanted to go for eye tracking, I was happy to hear that I could modify my study plan to fit that. The freedom to choose is really the best thing about the Finnish education system. In addition to technical courses, I also studied an entrepreneurship course that covered everything from business plans to end customer insight to pitching and funding… I also consider the teacher of the course, professor Jyrki Saarinen as my "guru" or mentor, as he made a big impact in my life with his great lectures and real-life examples, and he gave me a hint about the first internship.
Now Thiyagarajan has started working on a different kind of computer vision application.
–I work in the cosmetics industry, developing an AR app that can detect the facial features and skin properties of a person in an image. When the image is analysed, the app can recommend suitable beauty products for the user. I also applied for a position where I would have been developing camera systems in driverless cars, so I definitely think that this kind expertise takes you to really intriguing jobs, developing something completely new.
Therefore, Thiyagarajan sees the current IMLEX programme as a perfect fit for people who are interested in practical applications of VR and AR technologies.
–It's a huge benefit that you can utilise the best expertise of the numerous universities in the consortium. The programme also has interesting partnering companies, so the internship opportunities are great. There's a good trend in this industry and more jobs are created all the time. Besides, the intercultural understanding that you gain in a programme like that is a huge bonus in today's working life.
Speaking of the working life –Thiyagarajan really appreciates the balance that Finland and the Finnish society offers.
–I really like the work-life balance here, because after work you still have plenty of time for hobbies and family.
Still, cameras are a part of Thiyagarajan's life also outside office hours.
–I like to play with cameras and do stop motion animations and 3D stuff, whereas nature photography is not my thing. I love nature though and how it is respected here. I also like to spend time outdoors and go cycling or to national forests to pick berries, for instance. Oh… if you ever get the chance to taste wild strawberries in the forest, go for it. It's the sweetest thing I've ever tasted!